by Barbara Palmer
on 02 Jan 15
My grandparents,'The Hardings' owned 190 from the middle of the 1930's. My grandfather was very badly gassed in WW1 whilst serving with the Gloucestershire Regiment in France and as result never healthy. He was a soft hearted and kind man. He once caught a young lad stealing apples from the outside shop display. He took him into the shop for a long lecture...then gave him a bag of apples and took the lad to Bishop Road School in the lorry so he wouldn't be late.
This is a Harding Family Wedding photograph in 1941 at St Michael and All Angels . The bridegroom is my Uncle Bert who eventually ran the business after my grandfathers father's death in 1950. To left of the bridegroom are my Harding family (the two slightly older are my grandparents) Three of bridesmaids are my aunts. I am being held by my mother far right.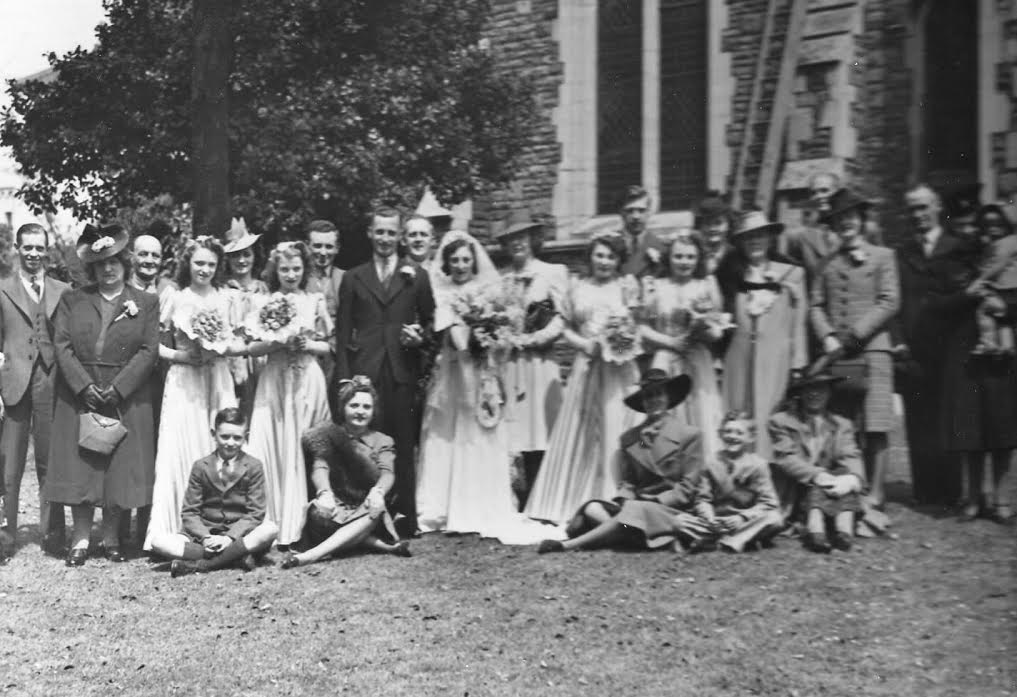 My grandparents moved opposite to 251 due to health and age. My grandfather died there in 1950. My uncle Bertie Charles Harding took over the shop. During WW2 Bertie served with the RAF Ground Crew in Malta. He was a very quiet and gentle man very much like his father in ways and looks. In the 1970's he sold 190 to Millards.
The vast majority of Gloucester Road shops in those days were family owned and many passed from generation to generation. Life was more family orientated and considerably much harder than now. There was a respect and a natural community spirit between all the shop owners. I never heard of any owner having a disagreement with another. There was also a respect between shop owner and customer.
My grandparents went to St Nicholas Market in Baldwin Street six mornings a week at 5am. The lorry would be loaded with the fresh fruit and vegetables they had bought and taken back to the shop for the days customers. During strawberry season my grandfather would drive the lorry a couple of times a week to the strawberry fields in Cheddar and come back loaded with punnets of strawberries to sell in the shop. If my luck was in I was sometimes allowed to go with him as a very special treat. In the summer months he would drive to the Pershore orchards weekly for freshly picked apples and pears - no such thing as foreign grown and cold storage in those days. People knew they were getting locally grown fresh fruit and vegetables.
I recall very well my grandmother using a boiler to cook beetroot and as it cooled she would remove the skin and pile it on large oval meat platters to sell in the shop. I hated the smell of the beetroot cooking and to this day I have never tasted it! My cousin Mike likes beetroot and has no recall of the horrible smell. The fruit window was dressed every Monday morning with nice colourful display of different fruits. Each day on the pavement they displayed fruit and vegetables. Prices of goods were written on the shop window in a white substance. In spring there would also be bright display of garden bedding plants for customers to choose a nice selection.
My grandparents were justifiably proud of their shop and the service they offered. It was very heavy and dirty work because potatoes,carrots etc were bought in large sacks with a lot soil still on them creating dirt and dust. As my grandfather's health was too poorly to do heavy physical work he loved being able to do his share driving the lorry to buy fresh produce. The shop was a true family run business - my grandparents, Bertie and Annie, my Uncle Bert, my mother Edna and three aunts Norah, Vera and Barbara. My three aunts all went to Bishop Road School.
The accommodation at the rank of shops was the same for each one. It was far from spacious! The layout was over three floors.The middle floor was the shop and storage.The lower floor was the living area comprising of kitchen and coal house to front.In the middle a bathroom and at rear was the living room and only room with a window to let daylight in. It was not a large room but it had a dining table and chairs, two fireside chairs, a Gramophone in a nice cabinet. A piano with long three seater stool - which in the past my mother and uncles Harry and Bert had sat on to practice their music lessons. Must not forget the wireless which was entertainment for all the family. My three aunts often sang in harmony and they also yodelled. It was a room filled with lots of happiness and laughter.
It was a climb up two flights of steep stairs to get to the three bedrooms. One for my grandparents. One shared by my three aunts and the third and smallest was my Uncle Harry's bedroom who was still living at home. No mod cons up there for washing or toilet facilities. That required a trek down two flights of stairs to the ground floor for the bathroom and outside for toilet facilities. I have my Uncle Harry to thank for teaching me to tell the time and times tables. As soon as I got to bottom of the stairs he would fire questions at me. He was a giant man to me with a big and loving kind heart. He also gave me my family nickname. When I was only week old he said my eyes twinkled and nicknamed me Twink. None of my family have ever called me by my given name and it's only my family who use my nickname. I wouldn't want that changed!
Sunday was a special day shared together as a family. My grandmother cooked a beautiful Sunday roast which we all enjoyed - she was an exceptionally good cook. Sundays was quite often a day when my family and other shopkeepers went on Campbell's Steamer day trip to Lynmouth. The steamers set sail from a landing stage on the Portway. Another Sunday outing was a trip to Aust and take the ferry across the River Severn to Beachley. I enjoyed going with my mother and three aunts to the Zoo on a Sunday morning. We took shop leftovers eg spring onions to feed the monkeys in the Monkey Temple. They were great fun to watch. On leaving the zoo you could buy from a seller outside a bag of winkles and a pin to eat them.
I have many happy memories of my young days shared with the family. They were very happy days albeit some were the war years with my two uncles abroad in the forces. Food and petrol were rationed for a number of years. Gradually more foods became available from afar eg. bananas which were packed in straw in long wooden boxes to hold the full length cut from tree.